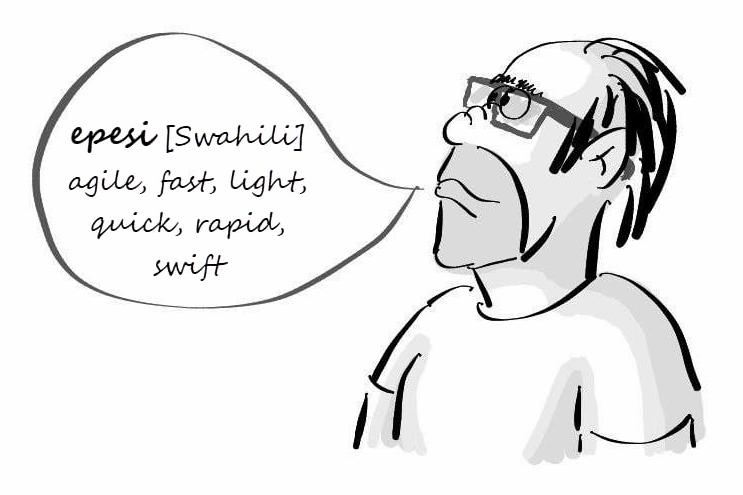 Epesi BIM
Business Information Manager
Epesi BIM is a fully functional free and open sourced CRM application that serves as a foundation for the rapid development of enterprise-level cloud native ERP solutions. It includes RAD tools and low code, no code agile approach to software development.
The year was 2006. Epesi was created by pioneers of agile software development methodology since 1998, and one of the Signatories of Agile Manifesto in 2007.
Epesi is perfect for busy IT professionals, Small and Medium Businesses, Startups, DIY admins, single owners, and life hackers who prefer to manage their business in their own unique way.
Download from Sourceforge Open Epesi Cloud Trial
http://epesibim.com/ site explains how Epesi can streamline your business operations and the advantages of implementing a FOSS technology stack.
Must have for paperless offices with remote and hybrid workforce
Epesi is a powerful application designed to streamline business operations and enhance collaboration for digitally driven paperless offices with remote and hybrid workforces. It seamlessly integrates CRM, ERP, and RAD functionalities, providing a centralized platform for real-time managing business information and processes.
EPESI BIM is a web application for managing business information. Its purpose is to store, organize, link and share information between people within a single company or organization. It has a modular design and can be easily customized and modified to match your processes and workflow. With EPESI you can access all your data from anywhere and anytime, as never before! Our unique and revolutionary approach will give you peace of mind that all data is stored in a single place, secure, organized and prioritized the way you always wanted.
CRM
Lightweight groupware for real-time business operations management
Visit CRM
ERP
Over 50 easy to use, dedicated ERP Premium Modules extending Epesi
Visit ERP
ENS
Holistic set of Infrastructure, Software stack and Know-how for SMB
Coming soon...
Free CRM
EPESI CRM is an extendable base of our product. Its structure is modular, but we offer it as a whole package, because all of its parts are essential in any company. It is 100% free and open source. It comes with many functionalities, like managing contacts, companies, tasks and many more, all that can be easily shared and easily accessed from any place at any time.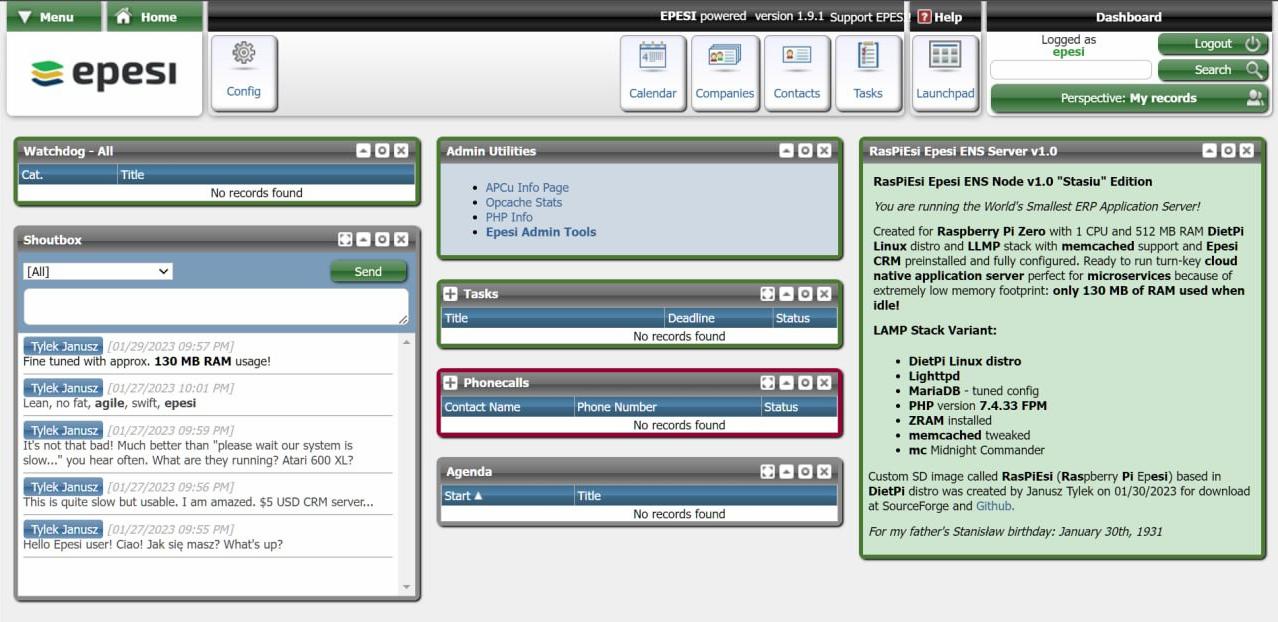 Screenshot of Epesi CRM dashboard
Over 50 ERP modules
Integrated Epesi Store provides a "click and install" easy way of adding additional modules and we have over 50 of them, some free and some available at very affordable rates saving you a lot of development time and money. All modules come also with a source code, therefore it's easy to use them as templates and customize to fit your special needs.
There are many extension modules in our offer that deal with more specific needs of different types of business activities. All of them can be obtained through our store that can be accessed directly from the CRM. You will find there both free and paid modules that vary from warehouse management to handling e-mail campaigns to timesheets.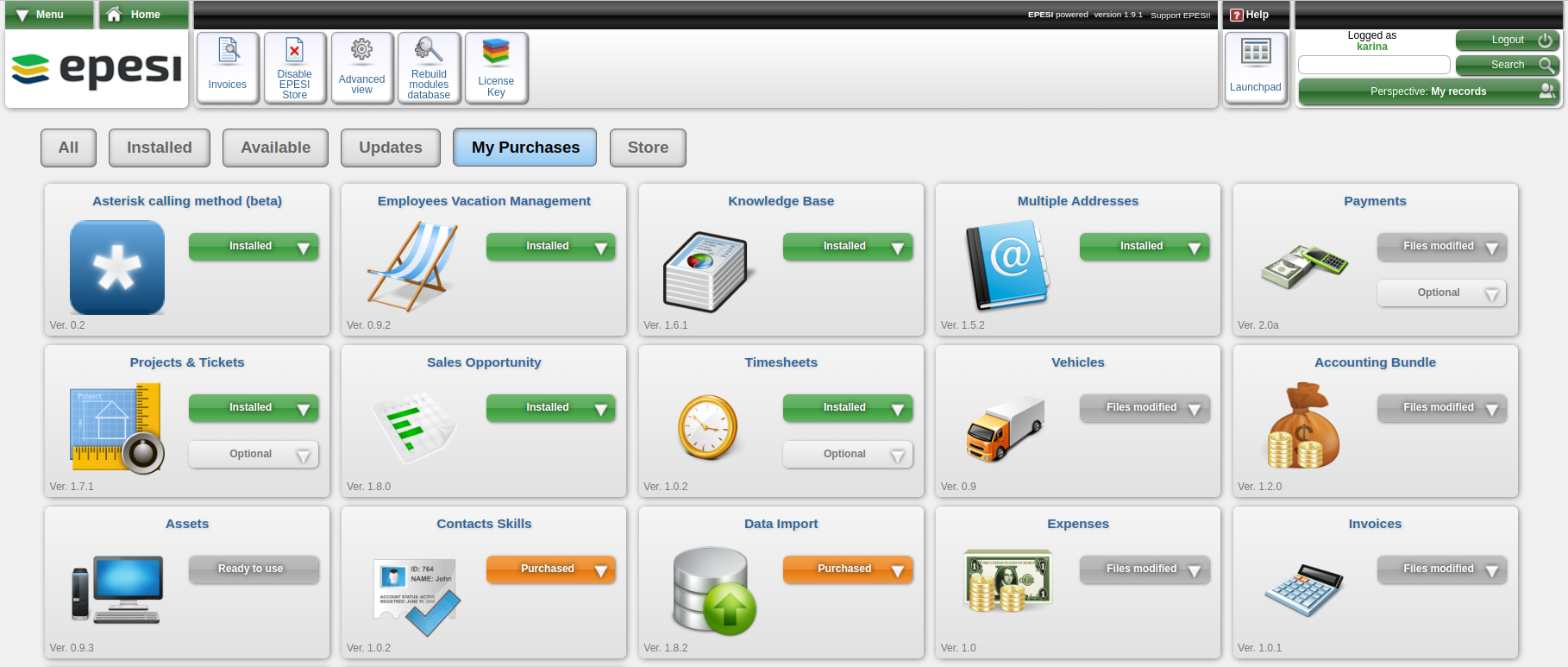 Screenshot of Epesi Store
RAD low code, no code
Still, EPESI is so much more! In one package with our CRM we deliver a high level PHP Framework - a collection of libraries and modules that allow rapid development of new modules. It has a very powerful CRUD engine together with user management, leightboxes, forms, themes and much more, all this with support via our forum. Everything free & open source under MIT license.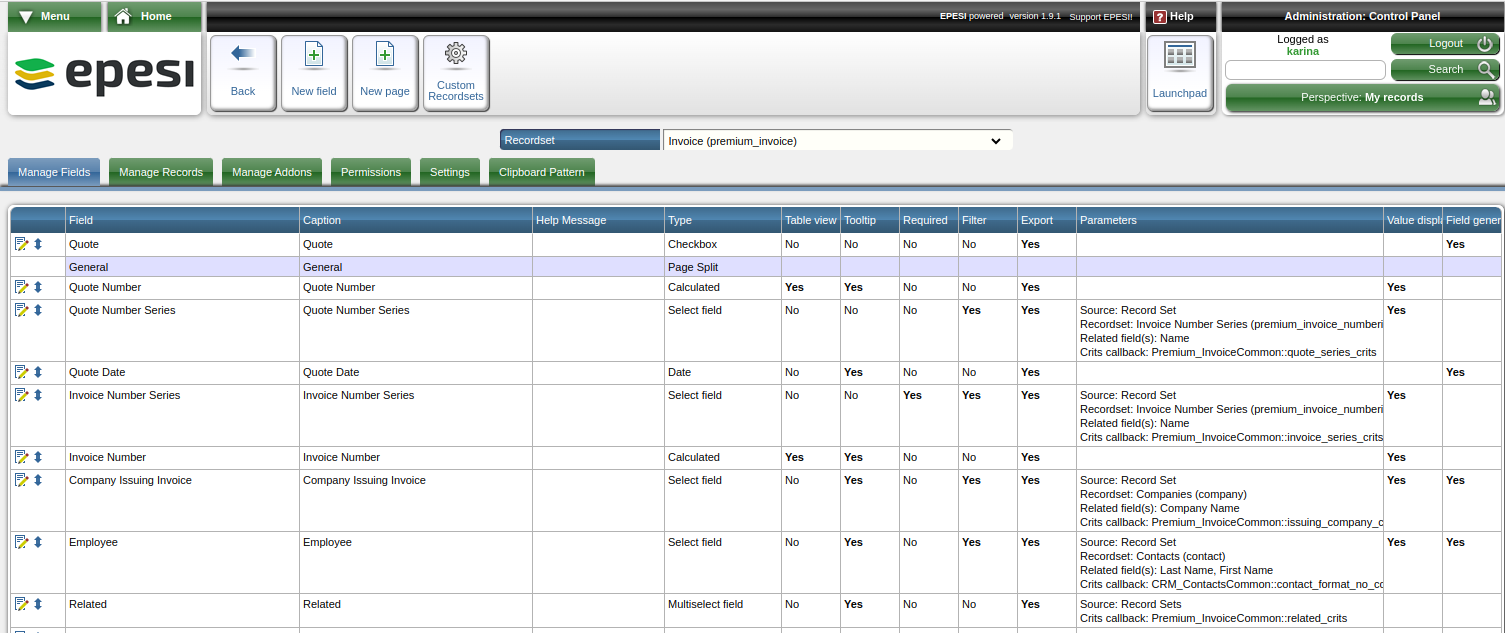 Screenshot of Epesi RAD
Epesi is ENS
Epesi is Not Software
Epesi is Enterprise Nervous System
The World's First Truly Open Source ENS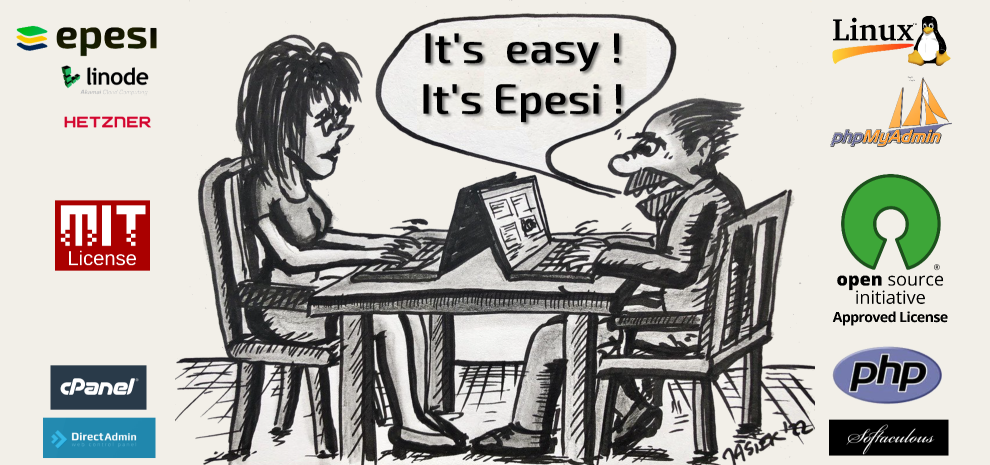 Try Epesi. It's easy. You'll be glad you did.
Epesi is an independent IT consulting and software development company.
Servicing clients in Greater Philadelphia and Worldwide since 2006.
---
Epesi BIM by
Epesi
Entity number
0012930996
Official mailing address
1260 E. Woodland Avenue, Unit 17a
Springfield, PA 19064
Pennsylvania, USA
Phone
+1 (646) 547-1026
e-mail
support[at]epe.si
Open
24 x 7 x 365
---
Copyright 2006-2023 by
Janusz Tylek and Karina Tylek
All rights reserved.